The Greatest Show On Earth comes to Enterprise Center on Dec. 9 and 10!
The reimagined Ringling Bros. and Barnum & Bailey invites people of all ages to a spectacle of superhuman feats, which pushes the limits of possibility and thrills multigenerational audiences. Get closer to the action with an immersive, 360-degree environment and new technology that creates real connections between you and performers from all over the world.
Bringing to life an arena spectacle at unbelievable scale, The Greatest Show On Earth will debut stunning feats of real human achievement, musical performances blended with aerial artistry, modern comedy, and never-before-seen acts on highwire, trapeze, bicycles, and more. The reimagined American icon will captivate families through a multi-platform, 360-degree experience that brings fans into the action, creating real connections between audiences and performers from all over the world!
Discovered during a global talent search, the show's cast of 75 performers hail from more than 18 countries including Ethiopia, Mongolia, Ukraine, Argentina, Cuba, Italy, Spain, Canada, and the U.S., among others. Their inspirational stories foster powerful connections through circus arts ranging from aerial, acrobatics, comedy, world dance, and more. Each performer and troupe's local heritage shines through costumes that celebrate their culture and individuality.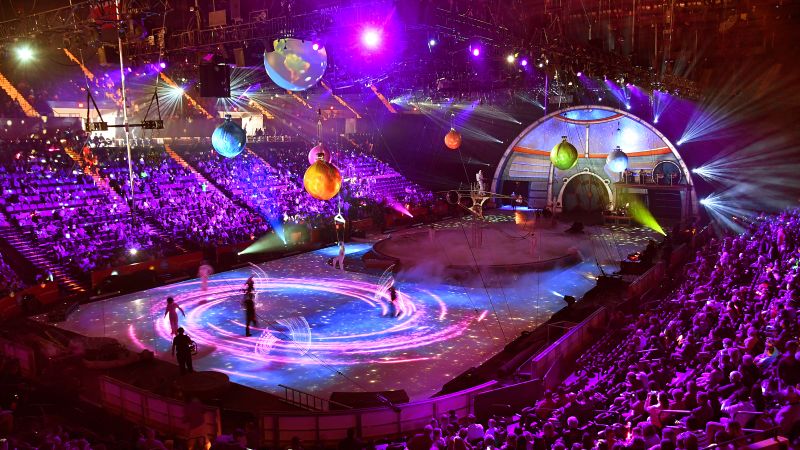 Enhanced technology – incorporated at a scale that has never-been-done before – amplifies each performance by creating awe-inspiring moments that bring the cast and audience closer together. Sonic spatial technology adds directional sound to put focus on specific areas of the arena, coupled with a spotlight tracking system that will connect and direct the audience's attention to the performers. Video moments of the audience will be incorporated into each show, allowing fans to truly be a part of The Greatest Show On Earth. 
The Greatest Show On Earth includes new jaw-dropping acts, featuring apparatus innovations developed exclusively for Ringling: The Triangular Highwire introduces a fresh twist on a circus favorite, with four performers on three 25-foot highwires connected in a triangular formation 25-feet above the arena floor.
The Criss-Cross Flying Trapeze will captivate audiences with a real 360-degree view, featuring nine trapeze artists soaring from front-to-back, side-to-side, and diagonally within the ultimate swing set-inspired play space.
A double wheel features four open-sided wheels rotating independently at epic speeds, powered by acrobats who perform daring back-and-forth jumps between both apparatuses at heights up to 30-feet above ground.
ENTER TO WIN FREE TICKETS WHEN YOU STOP BY APOTHEOSIS COMICS AND ENTER YOUR NAME IN THE DRAWING BOX!
The Extreme Box Jump Trampoline sends bikes soaring through the air during a high-adrenaline extreme sport act featuring a compilation of BMX, trial bikes, and unicycle riders performing stunts on trampolines. Additional unbelievable performances include hand-to-hand balance acts blended with acro sports, original Teeterboard combinations, a physical comedy troupe sparking spontaneous moments of fun and laughter.